Volumetric report of retention ponds and embankments for the rehabilitation of a quarry
Topographic survey dedicated to the depollution and rehabilitation of the quarry of Guignicourt.
Résults obtained from 5763 aerial images taken by the company Artech'Drone.
Post-processing by Drones Imaging.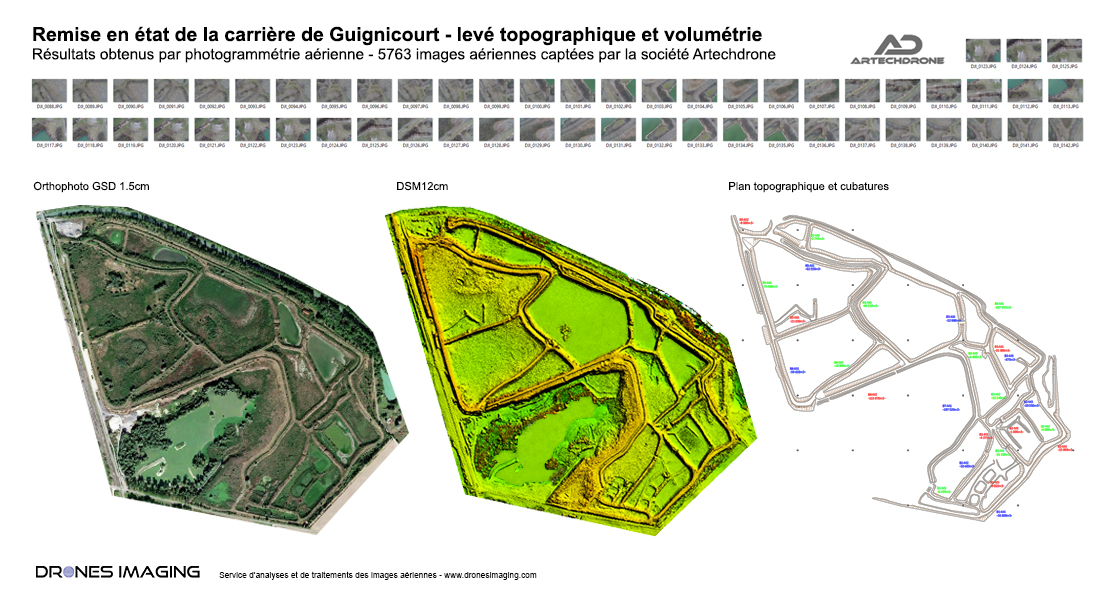 Artech'drone and Drones Imaging recently conducted a project in the Marne (51) whose objective was the topographical survey of a disused quarry of 100ha. In this way, the final client: a major mining industry wanted to evaluate the volumes of the cuttings and backfill of his quarry as part of a site remediation (decontamination of excavated materials and rehabilitation of the site).
The field crew consisted of two telepilots, a surveyor, and all of the persons in charge of the site for the upgraded in accordance with regulation.
The project proceeded on a day with two drones to capture aerial images at a height of 50m, achieving a GSD of 1 cm. From the collected images, a Digital Surface Model (DSM) was carried out by photogrammetry and from which: 4 millions m3 of cumulated materials (to be backfilled and removed) were calculated. These results enable managers to quantify precisely the scope of the work required and to start using the appropriate means.
From a technical and economic point of view, this successful operation demonstrates again the added value of the drone and the processing of images on huge missions. It thus foreshadows new contracts for the companies Artech'drone and Drones Imaging.
Source : Artech'Drone company.
Airborne platform : Phantom 4 pro.
Camera : FC6310.
Area : 100ha.
Orthophoto : GSD 1cm.
Spatial accuracy : centimeter.