Topographic map & volume calculation achieved by aerial photogrammetry
Mining industry: stone quarry nammed Puits et Nuisement.
Pierre Marceau, officer of the company Marceau Drones Images followed an operational technical training (photogrammetry option) in the training center of our partner Air City Diagnostic.
Less than a week after its professional training, he implements its gains on two quarries to realize two topographical surveys for a firm of surveyors. After having sent us its images, we were able to start the work and deliver to him in return: two topographical plans (an example below).
A nice job summarizing a high quality training, strict enforcement of the taught procedures (including the implementation of the GPS RTK) and our post-processing service. Now able to market mature digital products with high added value for the benefit of surveyors, we are delighted to continue this cooperation with Marceau Drones Images in the mining industry.
Topographic survey, June 2016. Result obtained from 740 aerial photographs taken by the company Marceau Drone Images.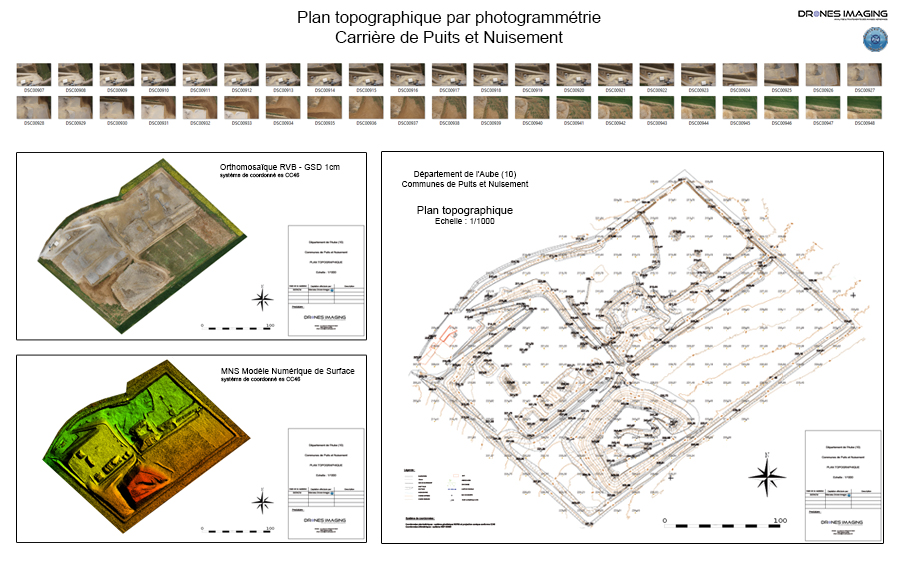 The orthophoto and DSM (Digital Surface Model) generated from 740 aerial images allowed us to produce and deliver a topographic map with a spatial accuracy less than 3cm (planimetric and altimetric).
Source : aerial images taken by the company Marceau Drones Images and post-processing Drones Imaging.
Airborne platform : drone Mikrokopter / automatic flight.
Camera : Sony A6000.
Area : 12ha
Orthophoto : GSD 1cm.
3D visualization