TECHNICAL DOCUMENTATION
–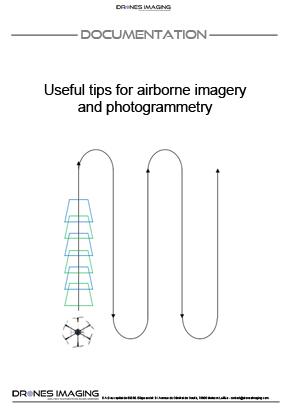 Useful tips for airborne imagery and photogrammetry
Drones Imaging is processing your airborne images (georeferenced or not) taken with a digital consumer camera.
No specific equipment is required for photogrammetry.
Drones Imaging don't set requirements as to the quality of your camera. However, it is reasonable to remember that the resolution of your images affects the quality of results. That is why it is highly recommended to use a camera with at least 5Mpx. To produce some orthomosaics with high quality, it is better to opt for a minimum of 12Mpx.
–
–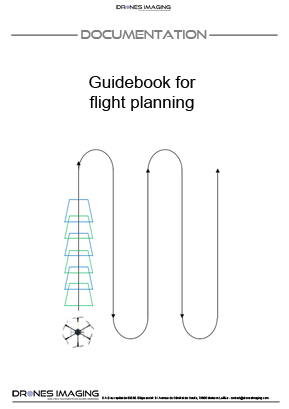 Guidebook for flight planning
Depending on the type of your air services: agriculture, cliffs, rivers, historic buildings, topographical surveys etc. our tips help you make the most of the drone while opting for the best acquisition strategy.
-Flight path: single or crosswise.
-Flight path: single or double.
-Overlap percentage.
–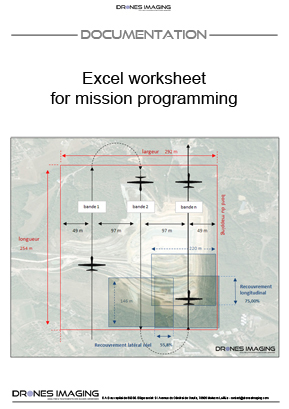 Excel worksheet for mission programming
By client meeting, from your office or on your smartphone, the worksheet will allow you to study the feasibility of an aerial mission, to extract the flight data and setting parameters of your camera.
Select your camera in the database, mention the flying height, length and width of the area to be photographed and immediately get your flight time, the frequency of the timelapse, the total number of images to achieve, the image resolution (GSD Ground Sample Distance) and the final size of the orthomosaic to deliver etc.
–
–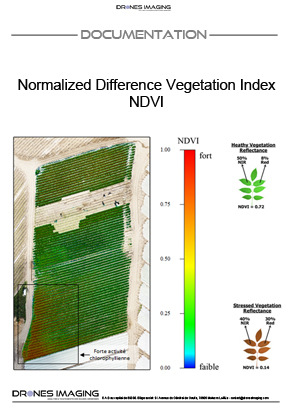 Normalized Difference Vegetation Index NDVI
The Normalized Difference Vegetation Index, also called NDVI is built from red band (R) and
near infrared (NIR).
The Normalized Difference Vegetation Index highlights the difference between the visible red band and near infrared: NDVI=(PIR-R)/PIR+R).
This index is sensitive to vigor and amount of vegetation.
–
–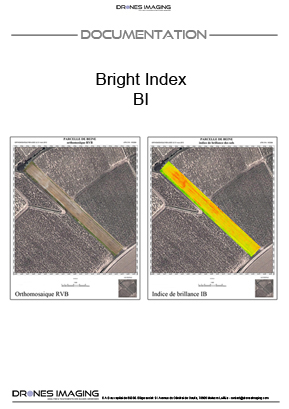 Bright Index BI
Bright Index is built from red channel (R) and near infrared (NIR) using the formula BI = √ (RxR
+ PIRxPIR).
Bright index is the brightness average of the image. This index is therefore sensitive to the brightness of the soil: moisture and the presence of salts. It especially characterizes the albedo.
–
–
–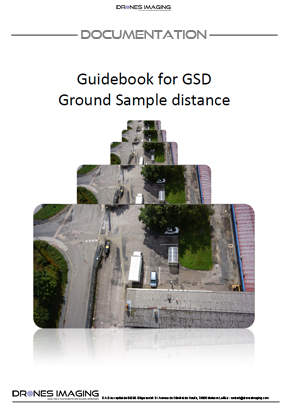 Guidebook for GSD Ground Sample Distance
In remote sensing, image resolution or orthophoto is determined (on the ground) by the distance between the center of two pixels.
For example, from a satellite image with 1m resolution, an Airbus A320 with a length of 38m will be restitued by 38 pixels into the image. Conversely and with some exceptions, an object of less than 1m size will not be detected.
–
–
–
–