PHOTOGRAMMETRY TRAINING OPTION AGISOFT METASHAPE

_
Expert in data processing and analysis of aerial images, discover our training center in photogrammetry.
_
The strong point of the training : from the customer to the 3D products delivery, data processing is part of an operational cycle in which each step requires great rigor.
Our photogrammetry training covers all these stages such as the sectors / customers targeted, the aerial image acquisition protocol, the settings and finesse of the software, the quality control and the delivery of geospatial datas.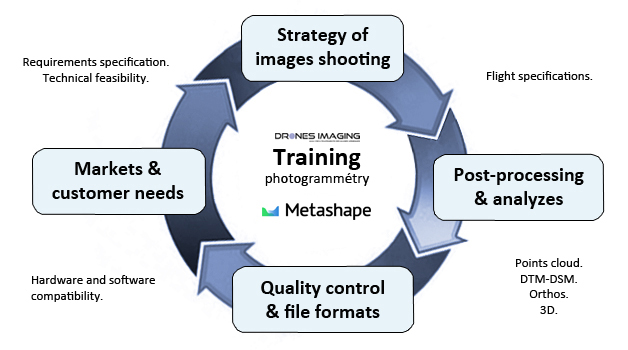 This training is given in two stages: 70 hours E-learning and 3 days in person with our experts. It is structured according to 4 main stages:
1-The market understanding and the customer needs.
2-The image acquisition strategy according to the type of service.
3-Data processing and production of high added value geospatial data.
4-Quality control, final deliverable and the hardware / software compatibility of the customers.
–
_
Objectives: mastering Metashape software for production and marketing geospatial datas in the fields of topography and 3D.
Candidates: operators of civilian drones, GIS specialists, surveyors, architects and engineers.
Prerequisite: computer basics.
Equipments: a dual-screen PC specially configured for photogrammetry (I7 processor and 64GB RAM) is allocated to each student throughout the training. A RTK receiver is also available to each learner for a freehand grip or with the instructor.
Duration and terms: 70 hours and 3 days.
Program: download.
Planning: visualize.
_
For more informations about our training sessions in photogrammetry, contact us
_
Our references