PHOTOGRAMMETRY TRAINING OPTION PIX4D
Expert in post-processing and analysis of aerial images, discover our training center in photogrammetry.
The strong point of the training : From customer to final deliverable, the post-processing is part of a complete operational cycle, each stage requires particular attention. The training covers all stages of the cycle, including shooting strategy that will ensure the quality of your geospatial productions but also the settings of the workflow needed for the expected accuracy.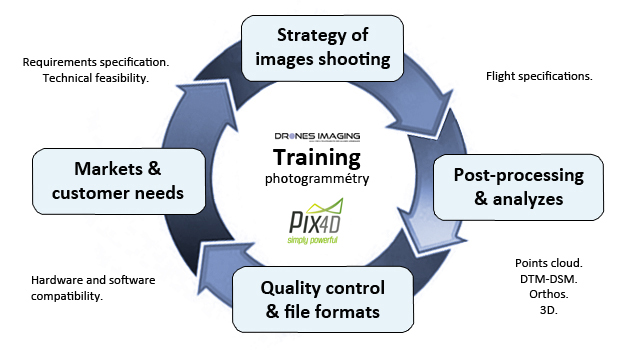 This training takes 3 days and is organized in 4 essential steps you'll find in your daily business applications as operator of civilian drones
The market understanding and the customer needs.
How to define an aerial capture strategy to meet the requirements specification and the standards of photogrammetry.
Post-processing and analysis: point-cloud, surveying, filtering, digital surface models (DSM), 3D orthophotos, contour lines, topographic cuts, multi-temporal analyzes for changes detection.
Quality control, final deliverable and the hardware / software compatibility of the customers.
–
Objectives: mastering Pix4D software and be able to deliver digital productions with high added value.
Candidates: operators of civilian drones, GIS specialists, surveyors, architects, engineers.
Prerequisite: computer basics.
Equipments: a dual-screen PC specially configured for the big data is assigned to each trainee.
Duration and terms: 3 days.
Programm: download.
Planning: visualize.
For information on practical arrangements about our training sessions in photogrammetry, educational content, material at your disposal, objectives and rates, contact us
Our references