3D survey of the Cap Champagne cliff – Reunion Island
Topographic survey of the Cap Champagne cliff realized by drone and photogrammetry – Reunion Island
3D modeling of a cliff for stability and erosion analysis.
Reunion island, february 2018. Results obtained from 1592 aerial images taken by the company Drone Austral, specialized in technical inspections by drones.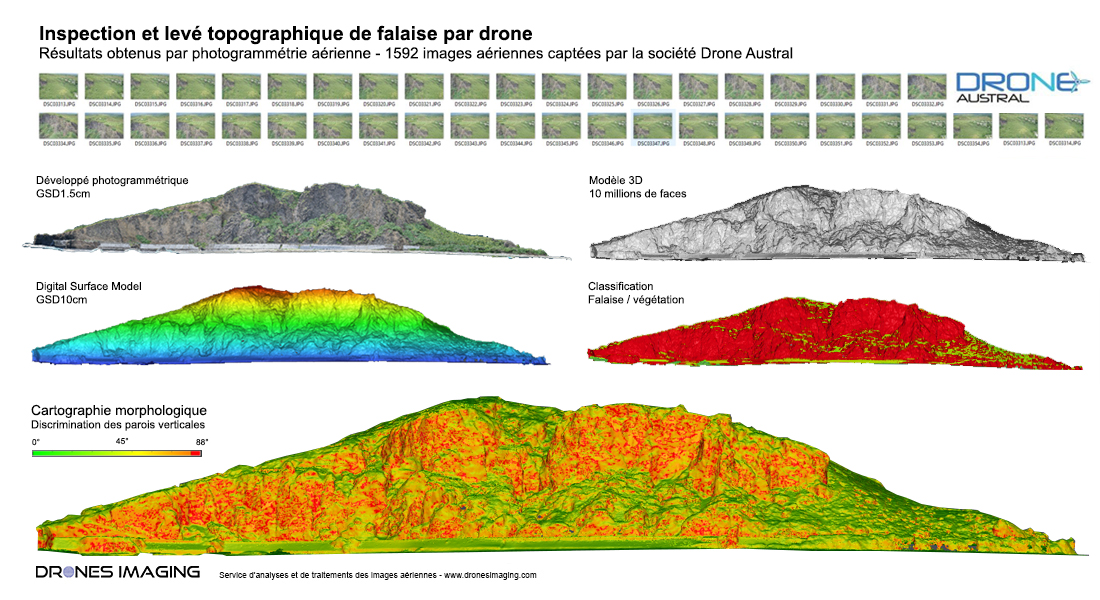 The office of Geological and Mining Research (BRGM, in charge of the study and monitoring of geological risks in Reunion Island) solicited the companies Drone Austral et Drones Imaging to model a cliff measuring 600m length and 100m high near the town of Cap Champagne.
With more than 200 km of coast, Reunion Island has a very diverse coastline today impacted by erosion phenomena threatening the cliffs near the roads. In this context and to anticipate the landslides risks on the roads, the BRGM commissioned a complete modeling of the cliff to study its least details.
Thanks to photogrammetry, the 1592 aerial images taken by the company Drone Austral were used to produce a dense cloud (1pt every 10cm) allowing a very faithful 3D representation of the cliff. The 3D model thus generated and whose spatial accuracy is of the order of a few centimeters (accuracy obtained thanks to GCPs targets previously set and recorded by the GPS RTK) allowed BRGM to identify risks areas (overhanging blocks ) and to calculate volumes in case of landslides. If this 3D modeling is already an excellent support for studying the rock walls morphology, it will also serve as an initial reference to ultimately measure their evolution over time. Indeed, thanks to future aerial surveys and with detection of changes tools, it will be possible to locate and quantify automatically: the rock walls impacted and weakened by erosion.
3D visualization
_
Source : Drone Austral company.
Post processing : Drones Imaging company.
Airborne platform : MK.
Camera : SONY A7R.
Length of the cliff : 600m
Height of the cliff : 100m.
Dense cloud : 10cm.