Bridge inspection by drone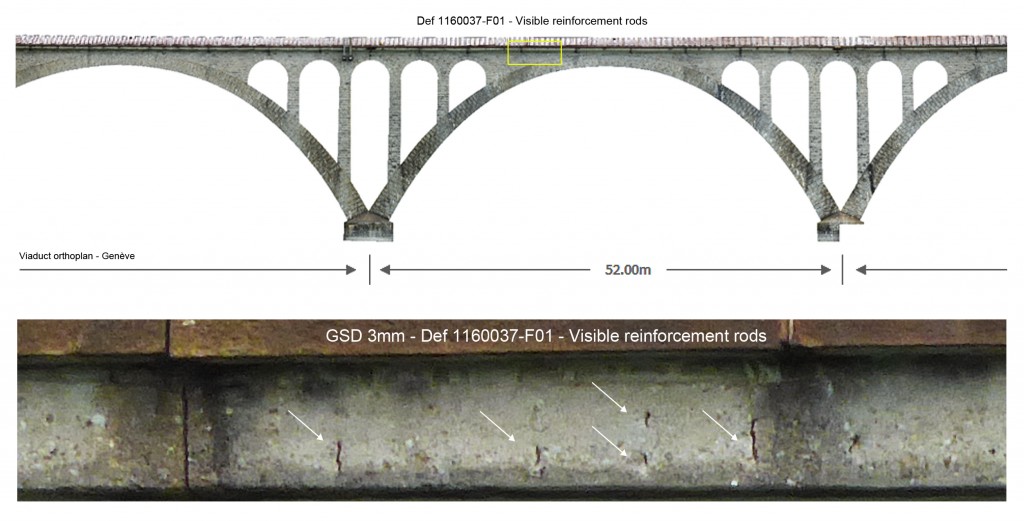 _
Orthomosaic of a 220m viaduct, june 2015. Work done from 1350 aerial images taken by AirX3, leading company for inspections of structures and superstructures in Switzerland.
On this civil engineering structure, automation flights with the drone Falcon 8 allowed the recording of successive images UHD (Ultra High Definition: GSD 3mm) to model the entire viaduct. Thus, the downstream & upstream sides of the viaduct have been analyzed directly from orthomosaics on which we have located all of the following defects:
Cracks.
Exposed reinforcement rods.
Vegetation.
Water infiltration.
Concrete joints.
Calcite.
–
Images source : acquisition by the company AirX3 and data processing / analysis by Drones Imaging.
Airborne platform: drone Falcon 8 / automatic flight.
Camera: Panasonic DMC-TZ61.
Orthophoto: GSD 3mm.